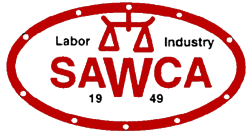 ---
50th Annual SAWCA Convention
July 5-8, 1998 in Asheville, NC
---
North Carolina hosted the 50th Annual Convention of the Southern Association of Workers' Compensation Administrators on July 5-8, 1998 at The Grove Park Inn in Asheville. Click here to view program topics and speakers, complete with all speaker biographies and resumes received to date.
To view the conference brochure, click here to see each page of the program content (page 1 and page 2), exhibitor information (page 1), and participant information (page 1, page 2, and page 3).
Warning: Trying to print the above images may cause a General Protection Fault.
Click here to download the free Adobe® Acrobat® Reader 3.01 required to read and print the complete facsimile PDF (portable document format) version of the program content, exhibitor information, and participant registration information; or call (904) 252-2013 to obtain a printed copy of the 50th Annual Convention brochure.
Established in 1949, the SAWCA is comprised of the workers' compensation agencies of 17 states and one U.S. territory. The association's members include administrators from Alabama, Arkansas, Delaware, Florida, Georgia, Kentucky, Louisiana, Maryland, Mississippi, New Mexico, North Carolina, Oklahoma, South Carolina, Tennessee, Texas, Virginia, West Virginia, and the Virgin Islands.
The Southern Association of Workers' Compensation Administrators serves as a resource for information, education, professional development, and assistance for the member groups in an effort to solve common problems and improve workers' compensation programs and practices. SAWCA continually examines the current issues in workers' compensation at its annual conferences, at its all-committee conferences, and in its regularly published newsletter.
The North Carolina delegation, made up of three members of the N.C. Industrial Commission, has long been a leader in the Southern Association. In fact, former NCIC Chairman William H. Stephenson was president of SAWCA in 1981 when the convention was held in North Carolina. Current N.C. Industrial Commission Chairman J. Howard Bunn Jr. was an active member of SAWCA during his tenure in the 1970s, as well as after his return as NCIC chairman in 1993. Commissioner Dianne C. Sellers has chaired SAWCA's Adjudication Committee for a number of years.
---
Return to N.C. Industrial Commission Home Page
Return to NCIC Alternate Home Page
---
N.C. Industrial Commission · Dobbs Building · 430 North Salisbury Street · Raleigh, NC 27611


Main: (919) 733-4820 · Fax: (919) 715-0282 · BBS: (919) 715-5920
Internet Address: http://www.comp.state.nc.us/